The most endangered cat in North and South America – The Andes Cat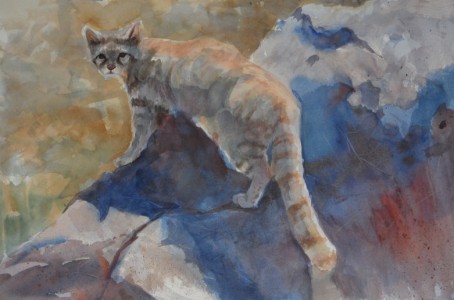 This little cat is called locally "Gato Andino" its fur is greyish with brownish yellow blotches that are distributed as vertical lines at both sides of the body, giving the appearance of continuous stripes. The tail of the Andean cat is very long (66 – 75% of the head and body length), thick and cylindrical, with a fluffy aspect and with 6 to 9 wide rings of dark brown to black colour. Their legs also have dark and narrower blotches or stripes, but they don't form complete rings. They weigh somewhere between 9 and 12 pounds.
The Andean cat lives in rocky areas at high elevations of the Andean region of Argentina, Bolivia, Chile and Perú, adapted to an arid inhospitable climate. Little is known about this elusive cat, but it is considered sacred by the locals, unfortunately, its skin is used to bless Llama herds and the like; so a Andean cat unfortunate enough to be spotted by a person is usually a dead one, since they are not afraid of humans and their skins are prized by locals.
There are some conservation and education programs right now that are focusing on the plight of this cat. They are bringing it into the schools and teaching children about them.
This painting is 16″ x 20″ and was done with watercolors on fine Arches paper. It is for sale for $350.00 all proceeds of the sale of this painting will go to the organizations that are trying to preserve this cat. If you love this painting, but can't buy it, please share it with your friends. Wouldn't it be awesome to be part of the effort to save this cat?
I'm sorry that I don't have a better photo of the painting, it is much too big for my scanner, but it is absolutely beautiful. I am very pleased with this painting.
here are a couple useful links to learn more about this cat:
http://smallcats.org/ContactSCCA.html
http://www.gatoandino.org
photo reference credit goes to Jim Sanderson, who has actually seen four of these cats, more than any one else in the world.